How is a nursing care plan (NCP) written? To create a care strategy for your client, follow the procedures listed below.
Data Gathering or Assessment (Step 1)
The first stage in designing a nursing care plan is establishing a client database utilizing evaluation procedures and data-gathering strategies (physical assessment, health history, interview, medical records review, and diagnostic studies). All obtained health data is stored in a client database. In this stage, the nurse might establish a nursing diagnosis by identifying the relevant or risk factors and describing features. You may utilize the unique evaluation forms certain organizations or nursing schools provide.
Data Analysis and Organizing (Step 2)
Now that you know the client's health status, you may evaluate, group, and arrange the data to create your nursing diagnosis, top priorities, and intended results.
Formulating Your Nursing Diagnoses (Step 3)
NANDA nursing diagnoses are a consistent method for detecting, concentrating on, and handling particular client requirements and solutions to real, high-risk conditions. Nursing diagnoses are actual or future health issues that may be avoided or treated without medical assistance.

Step 4: Establishing Priorities
Establishing a preferred order for treating nursing diagnoses and interventions is referred to as setting priorities. The nurse and the client start planning which nursing diagnostic needs to be addressed first in this stage. Diagnoses may be categorized and classified according to their priority high, medium, or low. Priority should be given to issues that might endanger life.
A nursing diagnosis encompasses Maslow's Hierarchy of Needs and helps to prioritize and plan care based on patient-centered outcomes. Abraham Maslow created a hierarchy in 1943 based on the fundamental requirements that all people have inborn. Before achieving higher wants and objectives, such as self-esteem and self-actualization, basic physiological needs and goals must be satisfied. Nursing care and interventions are implemented based on physiological and safety requirements. The term "ecosystem" refers to a group working in the construction industry.
Maslow's Hierarchy of Requirements
Basic Physiological Needs: Nutrition (water and food), elimination (toilet), airway (suction)-breathing (oxygen)-circulation (pulse, cardiac monitor, blood pressure) (ABCs), sleep, sex, shelter, and exercise.
Safety and Security: Injury prevention (side rails, call lights, hand cleanliness, isolation, suicide precautions, fall precautions, car seats, helmets, seat belts), building an atmosphere of trust and safety (therapeutic relationship), and patient education (modifiable risk factors for stroke, heart disease).
Love and Belonging: Promote supportive connections, prevent social exclusion (bullying), use active listening strategies, engage in therapeutic dialogue, and engage in intimate relationships.
Self-Esteem: Approval in the community, workplace, personal success, a feeling of control or empowerment, and acceptance of one's physical appearance or bodily habitus are all indicators of self-esteem.
Self-Actualization: Creating an empowering atmosphere, developing spiritually, being able to understand other people's perspectives, and realizing one's full potential.
The nurse must consider the client's health values and beliefs, priorities, resources available, and urgency while setting priorities. To improve collaboration, including the customer in the process.
Establishing Client Goals and Desired Outcomes (Step 5)
The nurse and the client develop objectives for each identified priority after allocating priorities for your nursing diagnostic. Objectives or intended outcomes are what the nurse aims to accomplish by applying the nursing interventions based on the client's nursing diagnosis. Objectives provide guidance for designing interventions, act as standards for assessing client progress, allow the client and nurse to identify which issues have been addressed, and inspire both parties by giving them a feeling of accomplishment.
Each nursing diagnosis is assigned a single overarching objective. The words "anticipated results" and "target outcomes" are often used synonymously.
Goals should be SMART, claim Hamilton and Price (2013). Goals that are SMART are those that are precise, measurable, achievable, realistic, and time-bound.
Specific. A goal has to be distinct, important, and reasonable in order to be successful.
Meaningful or Measurable Ensuring sure a goal is quantifiable makes it simpler to track development and determine whether it has produced the intended outcome.
Achievable or goal-oriented. Objectives should be adaptable while yet being reachable.
Realistic or goal-focused It's crucial to anticipate good results while keeping in mind the resources at your disposal.
Timely or focused on time. Every objective requires a time limit, a target date, and a goal to strive toward.
Hogston (2011) proposes using the REEPIG criteria to guarantee the best quality of service. So, nursing care plans need to be:
Realistic: in light of the resources at hand.
Clearly Expressed. Make sure everyone understands exactly what has to be done in order to prevent instructions from being misunderstood.
Evidence-Based. that the ideas being offered are supported by research.
Prioritized. The most pressing issues are addressed first.
Involve. Include the patient as well as the other multidisciplinary team members who will be working on putting the plan of care into action.
Goal-Centered. that the care schedule will be successful in meeting the objectives.
Long-term and short-term objectives
Objectives and anticipated results must be quantifiable and client-focused. The construction of goals focuses on issue avoidance, problem resolution, and problem rehabilitation. There are both short-term and long-term goals. As the client's urgent demands take up much of the nurse's time in an acute care environment, most objectives are short-term. For clients who have ongoing medical issues or who reside at home, in nursing homes, or in long-term care institutions, long-term objectives are often employed.
Short-Term Goal: A distinction between a change in behavior that may be
finished right away, often in a few hours or days.
Long-Term Goal: indicates a task that will take more time to finish, often weeks or months.
Discharge preparation. Involves identifying long-term objectives to support ongoing restorative treatment and issue-solving through home health, physical therapy, or many other referral sources.
Objectives And Desired Outcomes' Components
A goal or desired result statement typically consists of four parts: a subject, a verb, conditions or modifiers, and a performance standard.
The client, a component of the client, or a client characteristic is the topic (i.e., pulse, temperature, urinary output). Writing objectives often leaves off that topic since, unless otherwise stated, it is presumed that the subject is the customer (family, significant other).
Verb. The verb describes a task the customer has to complete, such as anything they are to accomplish, discover, or go through.
Modifiers Or Restrictions. To clarify the conditions under which the activity is to be carried out, the words "what, when, where, or how" are added to the verb.
The Required Performance Standard. The criteria identify the threshold at which the client will carry out the required activity or the benchmark by which a performance is assessed. They are not required.
The Nurse Should Use The Following Guidelines When Formulating Goals And Intended Outcomes:
Goals and achievements should be expressed in terms of client reactions rather than as nursing activity. To keep the objective focused on client behavior and answers, start each goal with "Client will […]."
Write objectives that are focused on what the client will do rather than what the nurse expects to achieve.
Utilize quantifiable, observable phrases when describing results. Avoid employing ambiguous language that invites the observer's interpretation or judgment.
The desired results must be reasonable given the client's resources, skills, and limits as well as the allotted amount of time for treatment.
Be sure that the objectives align with the treatments used by other providers.
Be sure that each objective stems from a single nursing diagnosis. By ensuring that planned nursing interventions are clearly tied to the diagnostic set, keeping it this way makes it easier to evaluate care.
Finally, to guarantee collaboration, make sure the customer sees the objectives as significant and appreciates them.
Choosing Nursing Interventions In (Step 6)
Nursing interventions are tasks or procedures carried out by nurses to meet the needs of their patients. The suggested interventions should be directed at lowering or eliminating the cause of the nursing diagnosis. Interventions for risk nursing diagnosis should concentrate on lowering the client's risk factors. Nursing interventions are chosen and documented at this stage of the nursing process, but they are actually carried out during the implementation stage.
Nursing Interventions: Types
Nursing interventions might be collaborative, dependent, or autonomous.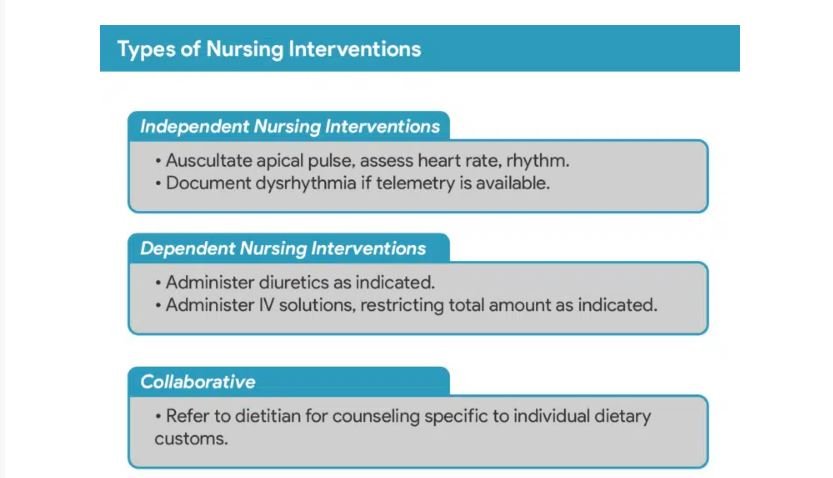 Independent Nursing Interventions: Based on their good judgment and abilities, nurses are authorized to start independent nursing interventions. Consists of continual evaluation, emotional support, consolation, instruction, physical treatment, and referrals to other medical specialists.
Dependent Nursing Interventions: these are tasks performed under the direction or control of a doctor. It contains instructions for the nurse to provide drugs, intravenous therapy, diagnostic exams, treatments, food, and exercise or rest. The dependent nursing interventions also include evaluation and explanation while carrying out medical directives.
Collaborative Interventions: Interventions carried out in partnership with other members of the health care team, such as doctors, social workers, nutritionists, and therapists, are known as collaborative interventions. To get their expert opinion, various healthcare specialists were consulted throughout the development of these initiatives.
Nursing Interventions Must Include the following
Safe and suitable given the age, health, and condition of the customer.
Achievable given the time and resources at hand.
In keeping with the values, beliefs, and culture of the customer.
In keeping with previous treatments.
Based on expertise and knowledge in nursing or information from pertinent disciplines.
Use The Following Advice While Drafting Nursing Interventions
Date the document and sign it. The plan's creation date is crucial for analysis, review, and future planning. The signature of the nurse serves as proof of responsibility.
An action verb that describes what the nurse is supposed to accomplish should be the first word of each nursing intervention. The intervention must begin with an action verb that is exact. The intended activity's content is determined by the how, when, where, time, frequency, and quantity characteristics. Evaluate urine for color, quantity, odor, and turbidity, for instance, or teach parents how to check a temperature and let them know if it changes.
Utilize only the institution's approved acronyms.
Step 7: Offering Justification
Rationales, often referred to as scientific justifications, describe the selection of the nursing intervention for the NCP.
Regular care plans do not provide justifications. They're provided to help nursing students connect the chosen nursing intervention with pathophysiological and psychological concepts. Do you need help with your nursing care plan assignment? Our Nursing Assignment Help experts help students understand every aspect of the field. Moreover, you can also get Ambulatory Nursing assignment help from our experts. Let us know what you need, and we'll help you.
Step 8: Assessment
Evaluation is a deliberate, continuing action that assesses the client's progress toward accomplishing objectives or intended results as well as the efficacy of the nursing care plan (NCP). Since the results of this stage decide whether the nursing intervention should be stopped, maintained, or adjusted, evaluation is a crucial part of the nursing process.
Step 9: Writing it Down
The client's treatment plan is recorded in accordance with hospital regulations and added to the client's permanent medical file, which the ensuing nurse may examine. The care plan forms vary amongst nursing schools. The majority employ a five-column structure and are created so that the learner progressively progresses through the interconnected nursing process phases.